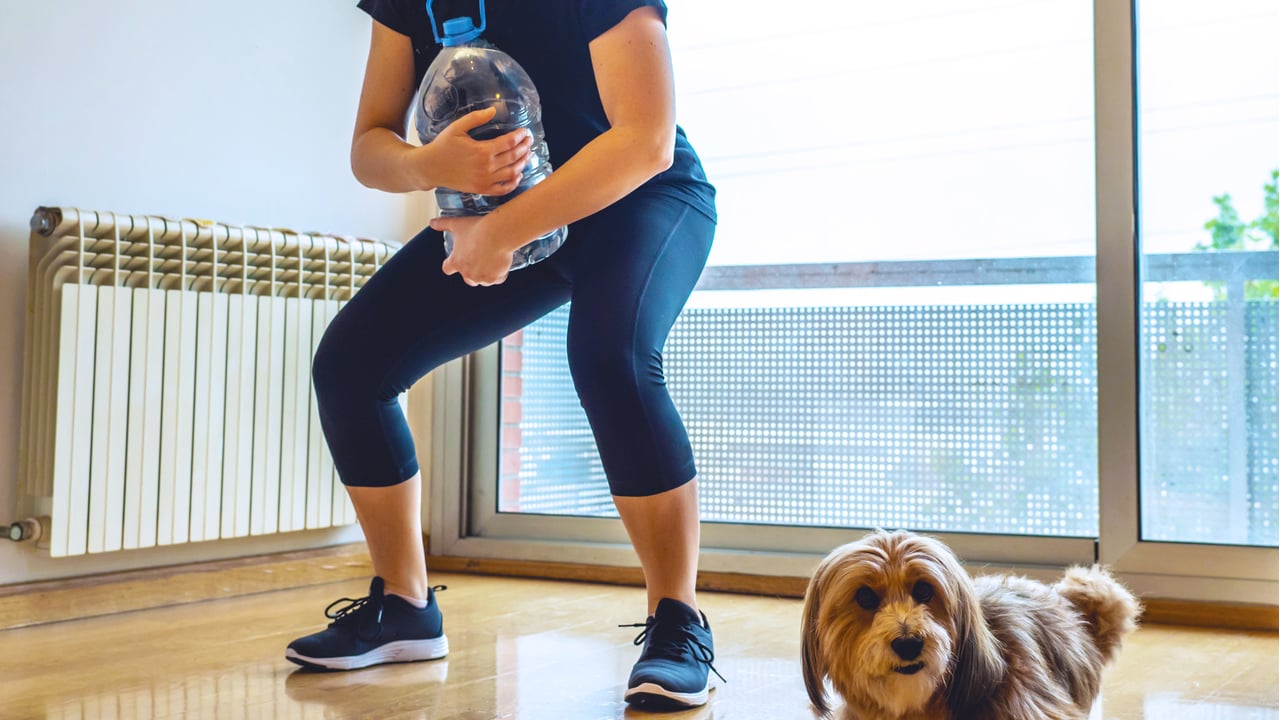 It's 2021 and you're all about self-love and preservation (gotta treat yo self!). You're ready to commit to working out consistently and eating better, but changing your lifestyle presents challenges – some easier to get around with than others. One of those challenges can be having the right tools to workout. Some of us aren't comfortable in a gym setting just yet, or may not have the means to pay for a monthly gym membership at the moment. And have you seen the price of home gym equipment lately? 😱 You literally have to finance workout equipment like a new car (sigh). 
But today I'm going to teach you how to lose the excuses, get around spending your kid's college fund on workout gear, and how to make homemade weights out of things you may already have lying around the house! 
1. Water bottles
Got a full 1.5L bottle at home? Then you're ready for squats! Just by holding the water bottle and extending your arms out as far as you can while you dip, it helps keep your centre of gravity in one line for proper squat form, while also strengthening your arms and keeping your balance. 
You can even adjust the difficulty with the amount of water inside your bottle – the heavier it is, the more challenging it becomes. And there are plenty of other items around the house such as a heavy book or a bag of rice. 
2. Broomstick
Brooms have a long history of being a great multi-purpose household item – at least in my life. I can remember using a broomstick as my trusty horse; riding around the house like a cowboy on his range – guess some things never change. You can use a broomstick to perform wall squats, do standing torso twists, overhead presses, rowing exercises – the list of activities you can do with a broomstick is long, and most people have one around, which makes it a go-to household item for making DIY weights at home. 
3. Canned goods
Canned soup—great on a cold winter day, bad when it comes to sodium. But even the strictest health advocates would love the idea of your canned goods as dumbbells for a workout. Besides, you probably have some old Garbanzo beans you were never going to eat, and they're the perfect weight for certain toning exercises that target your back, arms and shoulders. You can work on your biceps, or triceps, as well as perform lunges and squats. 
4. Wine bottles
The best way to torch those extra wine calories is by using the very bottles the wine came in! There are a bunch of ways to utilize your used wine bottles; from lying on your back, holding the bottle with both hands and doing leg lifts – to using the same position, this time against a wall to perform bridge and tricep burn exercises. So next time you polish off a bottle, set it to the side. You can use them later to make homemade weights!   
5. Milk or Water Jug
The most obvious and widely used method for making homemade weights is using milk jugs. It's quick, easy, and creative (I even draw little inspirational quotes on my jugs). Just take an empty jug and fill it with sand, or water, and there you have it – your very own DIY free weights! 
Pro tip: Make sure to use a scale while filling them up, that way both jugs are even. A good starting point would be to choose somewhere between 3-5 pounds. Remember, you can always adjust later!

6. Laundry Detergent Jug
Most of us don't have a kettlebell at home, but all you really need is a heavy object with a large handle – or a detergent jug. There are many kettlebell exercises out there to try, but for starters, you can incorporate them into squats or lunges. Alternatively, you can do hip swings or windmills to train your joints, or try overhead presses to bring more muscle to your arms and shoulders.
7. Towel
Did you know that you can get a killer ab workout with a bath towel? I know I said I'd teach you how to make homemade weights, but this might be my favorite DIY weights at home hack of them all! With a towel you can perform leg lifts, planks, lunges, split squats, crunches – the list is endless! 
8. Backpack 
Overhead presses, front and back squats, lunges with a twist – so many exercises are possible with your average backpack! Backpacks are the easiest and most obvious choice for homemade weights, and everybody's got at least one! My favorite thing to do is to add some weighty objects to my backpack, and wear it on a hike so I burn more calories. 
9. Step Stool 
Here's an idea; instead of purchasing an actual step platform like the ones used in aerobics classes, you can use your household version, though I'd recommend making sure it is locked in place so it doesn't slide while you're working out. If you want a more intense workout, your sets with a weighted backpack, or time yourself doing toe taps in 30-second intervals.